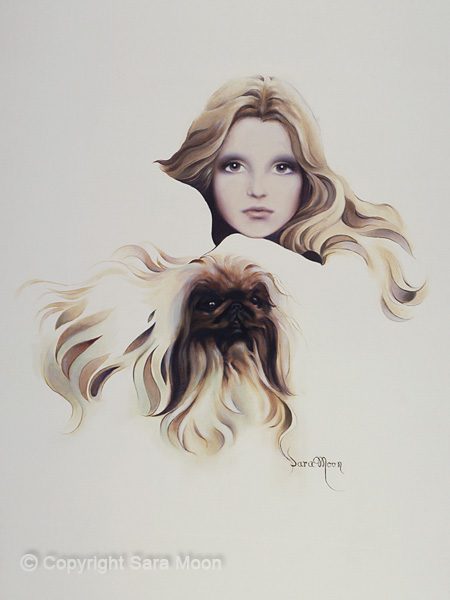 Catherine
by Sara Moon
Catherine, with her beautiful pekingese dog, is a classic 'Sara Moon' artwork that you can now own in many forms at the Official RedBubble Sara Moon Art Galleries.
There is also a cross stitch pattern available.
See the links below for availability.
"Catherine" (RB*) by Sara Moon
We've made Catherine available to you in as many ways as possible, from simple postcards and posters to photographic and fine art prints – even a canvas that's hard to tell from the original.
There are many gift items too, from a simple lapel pin to phone and tablet skins, t-shirts, tote bags and pillows and for all you cross stitch fans, you'll find the pattern at the Artecy Cross Stitch Sara Moon Galleries. Take a look for your self by clicking the links below …
*(RB) has been added to this title as a notation that this was the Red Baron 'Catherine'. Confusion occurred when the publisher, Verkerke titled a later painting Catherine without consulting the artist. That later painting is now referred to on this website as "Catherine (V)"