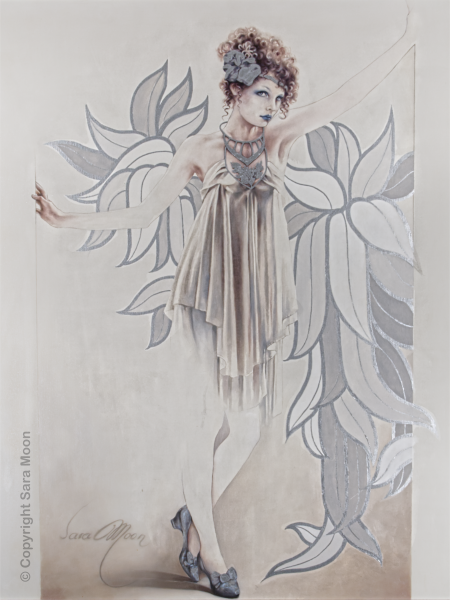 Josephine – Special Edition
by Sara Moon
Super-Size
Personally Signed,
Original Archive Print
Beautifully Embellished in Silver Ink!
With Certificate of Authenticity.

Size: Approx 24″ x 36″ (62cm x 93cm)
(A smaller size is available (see below)
Original Verkerke Decorative Art Print Ref: 1525
Only 35 Ever Personally Signed!
Don't Miss Out!
"Josephine – Special Edition" by Sara Moon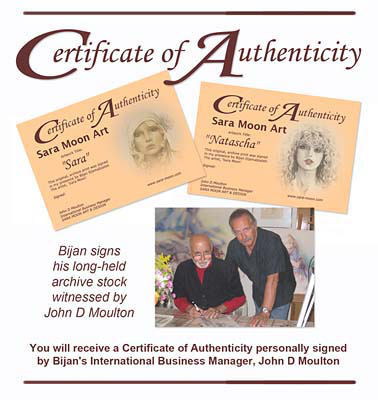 This 24″" x 36″ Special Edition print of 'Josephine' comes to you from the artists long-held archive stock. It's a print that is impossible to photograph or scan to best effect because it is heavily embellished with silver ink around the leaf edges, the head-gear, the neckless and breast-plate and shoes
It is guaranteed to be in 'as new' condition. The print is personally signed 'Bijan', known by fans world-wide as the actual name of the artist, 'Sara Moon'.
Here you have the opportunity to invest in an original archive print by an artist who is held in great esteem for his wonderful portraiture and remarkable talent for capturing the very essence of the animal kind too.
This original print stock can never be repeated. Secure yours while you can.
---

OTHER PURCHASE OPTIONS
A larger size personally signed print is available and there are everyday prints and other merchandise bearing this lovely image that can be found at the Sara Moon RedBubble Galleries and an Artecy Cross-Stick pattern is available too – see the links below …