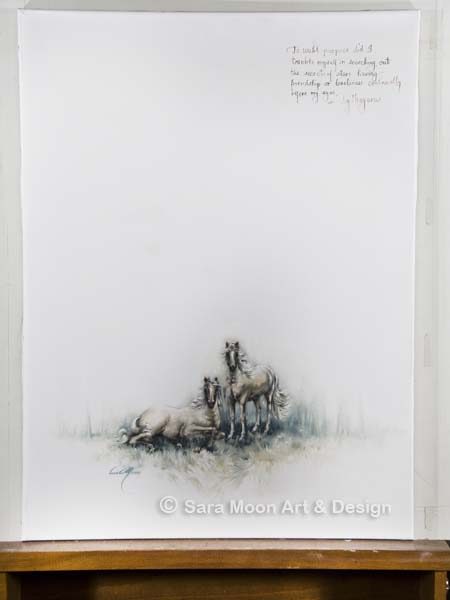 THE ORIGINAL ARTWORK
Lonesome Friends
by Sara Moon
Oil on Canvas
Seen here on the artist's easel
Comes with Certificate of Authenticity.
Approximate Size: 24″ x 30″
(60cm x 80cm)
The Original Artwork "Lonesome Friends" by Sara Moon
This is the original oil painting, 'Lonesome Friends'. The artwork comes to you directly from the artist's studio in Southern Germany. It is guaranteed to be the actual original artwork and will be accompanied by a Certificate of Authenticity, signed by Bijan Djamalzadeh, the artist known worldwide as 'Sara Moon'.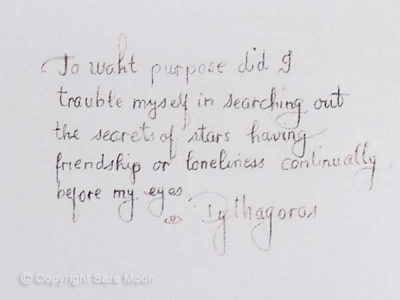 A major difference between this original artwork and the prints now generally available is the inclusion here, of a small poem Bijan wrote and included in the top right-hand corner.
"To what purpose did I trouble myself in searching out the secrets of stars having friendship or loneliness continually before my eyes."
Here you have the opportunity to invest in an original artwork by an artist who is held in great esteem for his wonderful portraiture and remarkable talent for capturing the very essence of the animal kind.
---

OTHER PURCHASE OPTIONS:
A very limited number of signed prints can be purchased using the link below, plus, there are everyday prints and other merchandise bearing this lovely image at the Sara Moon RedBubble Galleries – see the links below.