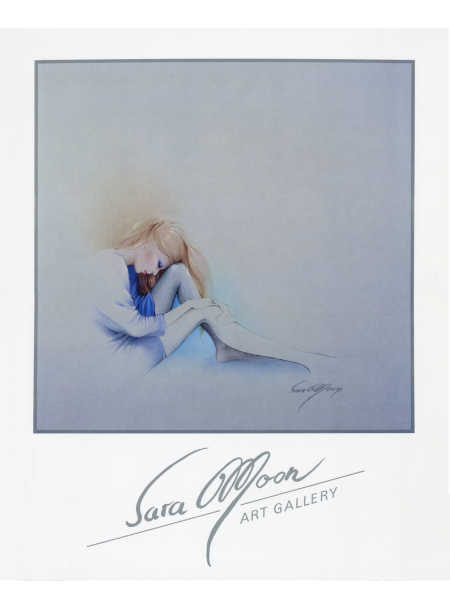 Sara Blue
by Sara Moon
AVAILABLE HERE IS THE RARE
'SARA MOON ART GALLERY'
EDITION
(Other option below)
Size: 16″ x 20″ (40cm x 50cm)
Personally Signed Print
Comes to you signed, from the artist archive stock.
With Certificate of Authenticity.
Only 12 were ever personally signed!
Don't miss out!
"Sara Blue" by Sara Moon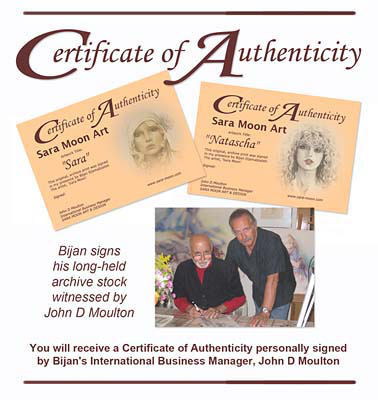 The 'Sara Moon Gallery' print shown above is incredibly rare and comes to you signed, 'Bijan' – the artist known worldwide by his professional pseudonym 'Sara Moon'.
Also included with you purchase will be a Certificate of Authenticity, signed by John D Moulton, International Business Manager, Sara Moon Art & Design, who witnessed the signing process and pictured here and on your certificate with Bijan.
---
YOUR OTHER PURCHASE OPTIONS …
We've also made 'Sara Blue' available to you in as many ways as possible, from simple postcards and posters to photographic and fine art prints – even a canvas that's hard to tell from the original.
There are many gift items too, from a simple lapel pin to phone and tablet skins, t-shirts, tote bags and pillows and for all you cross stitch fans, you'll find the pattern at the Artecy Cross Stitch Sara Moon Galleries. Take a look for your self by clicking the links below …